INTENSIVE GERMAN COURSES FOR STUDYING OR WORKING IN GERMANY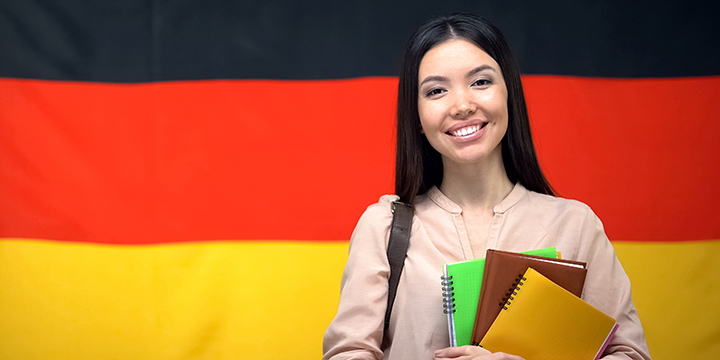 Intensive German Courses | DSH
Every semester the Bauhaus Weiterbildungsakademie Weimar e.V. - in cooperation with the Bauhaus-Universität Weimar's Language Centre - offers intensive German language courses designed to acquire the German language skills necessary for studying or working in Germany.
This is also possible if you want to prepare for studying or working in Germany while still in your home country. In addition to face-to-face and blended learning courses, remote teaching courses via our learning platform Moodle, combined with video conferences, are part of our programme.
The courses have four different target levels. By passing the German Language Examination for University Admission (DSH), the German language requirements for enrolment at any German university can be met.
Refugees are eligible for grants funded by the DAAD (German Academic Exchange Service) Integra Funding Programme.
Link: Language Centre
If you have any questions, please contact us!
You can find the current flyer for our German intensive courses here!
Course formats
Course format

Fee

Face-to-face teaching


c. 20 hours/week with c. 15 students

1.300,00 €
Target Levels
Our courses have different target levels:
Course

Prerequisites

Target Level

Pre-intermediate German
c. 300 hrs / A2
B1
Intermediate German
c. 600 hrs / B1
B2
Upper-intermediate/
Advanced German
c. 1.000 hrs / B2
C1/ DSH
How to register
Below you will find a registration form providing further information which can be downloaded and printed/completed. Please make sure to contact us before registering to find out if places are still available.
Ms Carmen Beuthan
Phone: +49 (0) 36 43 - 58 23 91
Fax: +49 (0) 36 43 - 58 23 92
Email: wba-deutschkurse@uni-weimar.de
Please send us the completed registration form by email or fax. You will find all the relevant information in the registration form.
Application deadline:
28 February (summer semester)
31 August (winter semester)
or when the maximum number of students has been reached.
Language Courses
As a central institution of the Bauhaus-Universität Weimar, the Language Centre offers language courses for students and staff of the Bauhaus-Universität Weimar and the University of Music FRANZ LISZT Weimar, but also for students from other universities or guests.
Link: Language Centre